"I live for today, not for yesterday.
The theology of time has long ago disappeared, today.
For the past and the future would always meet,
and existence will walk by your side."
―Mauric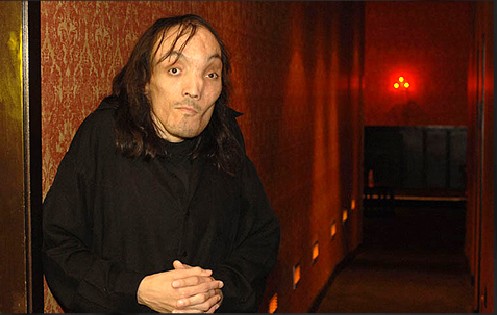 io Saravia
At the end of the day, there is no choice. The truth cannot be ignored. Life is not like a play. We do not get to rehearse. No amount of practice will bring to light a more distinguishing role. That is why at all times we must absolutely, positively be ourselves.
I know my eyes are dark like the color of deep lake water on quiet moonless nights. Their guarded unrevealing nature, however, has tangible advantages. They are instruments of protection from the capricious nature of fate and the unswerving gaze of others. You may ask questions, draw conclusions, stare rudely, or turn away, but you will never be able to penetrate the miserable circumstances of my chronic pain and disfigurement. Only I must reconcile the concrete with the abstract, and find courage to awake each morning in a misshapen prison of hard-hearted facts, crushed together in a small space.
At least I am not boring. You cannot describe my features at the risk of simplifying them. Where else can you dispense with illusions, so quickly?
I admit my eyes also appear frail on occasion, worn out from life, disenchanted with a body ordained by fate. Some days their inexhaustible disappointment influences my walks along the beach. Under a jeweled sunset with water lapping at my feet, I glance out to sea and solemnly challenge the ocean for a wave to sweep me away.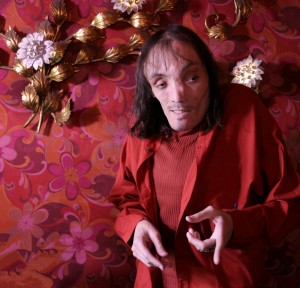 On the other hand, during gifted moments of illumination, my eyes display a certain dream-state delicacy, which is gentle, round and well focused. With elegance and certain pride, I allow them to take in the world and organize it like a camera's lens. They absorb shape, embrace color and scan for activity even in hard to reach places. They scrutinize people, investigate things, and examine ideas down to the smallest detail. Hidden among dark shadows where the great unknown is said to exist, they explore for answers. As they search, organize, test, observe, and draw conclusions, I am the director of my own secret destiny. This is the one place where no one else's attempt to judge or define me even vaguely by my appearance is of any great consequence.
I acknowledge my dark hair has a will of its own. A few loose strands in the front trickle down my wide expansive forehead like rivulets of water. Though dense and shoulder length this black cape draped around the back of my neck has no mission or sense of place. Thus with insufficient coverage my McCune-Albright's syndrome is pushed out into the world, fully exposed and deeply vulnerable.
I know my face is the shape of destiny, seen from a distance with imaginative ease, viewed close at hand in a mythological sense. Its reflection in others grows in proportion to the view they have of themselves. Look at my expression, how muscles move, and lips form a smile, just like you. See how capable I am of sadness, humor, and joy in harmony with all of life. Yes, it's true, we are more alike than you think. So, imagine my surprise to discover, on occasion, how flat and shallow some people cut and paste their first impressions. It's disturbing enough to sit alone and contemplate why the universe forms as it usually does in celestial experimentation without being reminded that the luckless star in one prophetic moment ha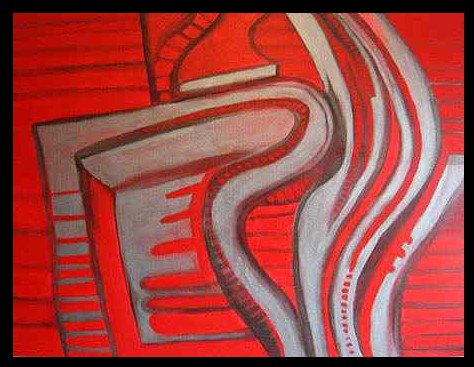 d to be me.
I know the appearance of my body resembles large stones in a rapid river, stripped and polished to the flow of the current. I understand the elemental reason of nature: that nothing is certain, everything is elusive, and time eventually wears away the thin veneer of flesh and bone from each of us. Physical limitations I must endure with fateful reluctance. However, what matters most is what I aspire to, even if only to combat the inevitable force of life.
I refuse to accept physicality as my only defining element. I will not half-sleep through life, regardless of a body reformed in it's own limitations. Quite the contrary, for I have discovered true liberation on the days I awake astonishingly free from the flow of restriction.
Despite poor health, I am a poet. I write to justify life and make it appear logical. I compose for pleasure. I produce words not as fabrication, but as proof of a destiny, no one can ignore. At times, I fail. The struggle is long and arduous. However, sadder, much sadder to contemplate is the thought of no fruit on the ground, whatsoever.
My longing for expression is pervasive. This tremendous passion for language has rescued me from the oblivion of that other life, where only appearances garner respect. I unite with all poets who seek to fine their way through the labyrinths of wording, structure, and emotional complexity. Silence is our common enemy. Phrasing poses an intractable problem. Once you go so far, you risk falling off the edge. Redemption is a completed poem. The rest is insignificant. The eyes, a mouth, lost among thousands of others slip away in anonymity. Have you forgotten that memories fade, but poetry lives forever?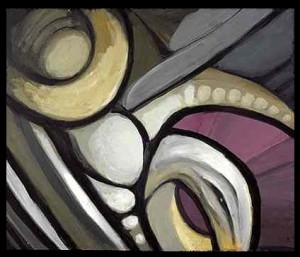 I write to understand the ephemeral nature of creativity. Yet, other more concrete possibilities pass through my life, so I also take the initiative to paint, for is not the soul of love manifested in physical things, as well? In either event, both give rise, full and complete, to a state of happiness as rich as I can imagine.
It has been suggested some of my images are dark and melancholic, while others reverberate with illumination. This is right on both counts. More importantly, each at one time was like a child yet born, eventually brought into the world through my own singular vision.
I paint to show human imagination can take many forms. I am not restricted by the dark, heavy, elemental nature of fate, which some see in my work, nor the translucent state of positive energy, converted into physical presence, which others observe. Rather, what is happening to me, what I choose to focus upon, is the development of my own creative process. I know my heart demands expression to reduce the shame and despair. I paint to feel the heat from each canvas. I produce to scorch away youthful dreams and disappointment. Imagination is the driving force.
I must see things differently. Understanding is my goal. Knowledge is my key. My resourcefulness is an outlet given hope. Any reasonable explanation will suffice that explains away the distressing reflection seen from a mirror. Anyway, after the fact, let each work speak for itself. Of greater importance to me is that I dearly love them all.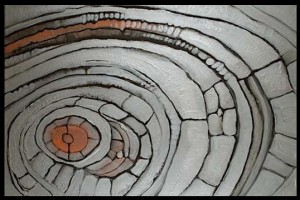 Finally, there is another face I must reveal for it is covered in moments of loneliness. It is the face of isolation, rejection, and fear. It's wearisome enough to occasionally lay head down in hand and be quiet. Perhaps at this time, my soul fills with pity. The world is heavy. The lights are dim. The pain from my rare, medical condition is fully formed and constant. I brood for a while.
I also know on these days that eventually my supreme faith will assert itself. Storms do subside, winds inevitably cease, and the sun will emerge bright and glorious.
There are many projects I have accomplished, many more still on my mind and not enough time to sufficiently address them all. This frustrates me. Still, I am grateful the gift of life includes many generous, loving souls who continue to play a significant role during crucial times in my struggle to survive.
As you might imagine, it's not easy to live on the edge of this perplexing contradiction. Nothing will change for appearance sake. I cannot shut the blinds. There is no place to hide. So, I work on becoming exceptionally optimistic. I adjust and hypothesize. I set goals. I remain a man of substance. In other words, I alone decide the narrative of my compound being. I am unique. I am capable of any undertaking. I am Mauricio Saravia and I will create my own mythology.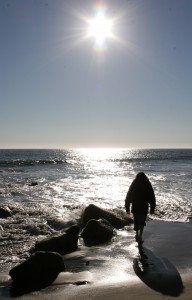 I have faced constant pain, sorrowful looks, and financial insecurity. I have faced creative challenges, extended love, and many a feeling of joyful experience. I have endured uneasy awareness, strangeness in my own body, and the unknowable future. However, I am thankful for the melody of my mother's supportive voice, the ability to write, create music, plow the narrow fields of a landscape in painting, and feel the triumphant rush of a life well lived.
~~~
Sadly, Mauricio passed away in 2008 at the age of thirty-eight. Therefore, his thoughts and ideas as expressed in this narrative are mine alone and I accept full responsibility for the content.
My inspiration was a reflection of many hours spent in conversation with his mother, Maria (Marisa) Eloisa Damele, who introduced me to Mauricio's poetry, paintings, music, and family photographs of him growing up. Her unconditional support throughout the entire writing process is deeply appreciated.
Marisa also provided me with important videos. I watched her son's gentle mannerisms while he walked along the beach. I heard his patient, soothing voice in response to questions about his artwork. This knowledge base provided a standard of measurement without which I could not have created a word. Finally, special thanks to photographer Faye Sadou for contributing her beautiful portraits of Mauricio, and photographer Maria Ventura of Ventura Imagery for her stunning photographs of his paintings.
Saravia – One Man. A Dream. His Journey.
Mauricio Saravia – Painter – Musician – Poet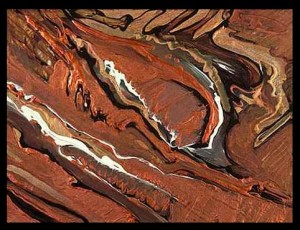 No related posts.